Alumni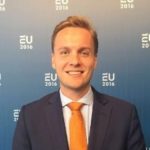 Hugo van Grondel (2019)
SKILLS: social media, (public) policy, public/international relations, event management, research, marketing/intercultural communication, nonprofits, Microsoft Office, coaching, teamwork, Dutch, English and German.
After having obtained his bachelors degree in History and his masters degree in International Relations in Historical Perspective, Hugo van Grondel currently works as a Policy Advisor at the Ministry of Foreign Affairs. In this ministry he is part of the board for International Companies: North-America, Cuba & Partners and international trade.
Before coming to work at the Ministry of Foreign Affairs, Hugo followed (amongst other things) a traineeship at the Dutch embassy in Washington D.C., as well as participating in the 'Diplomacy Programme' at the Clingedael Institute. Hugo has experience in multiple fields within the sector of international relations and is therefore the alumni you need to speak with if you aspire to work in the international field!