Programme & Introduction
Programme overview Humanities Career Night 2022
Sustainable Introduction of the Humanities Career Night 2022
The Humanities Career Night will start at 6 pm with a joint introduction by Jon Kahler and Spandan Joshi & Tiemen Wagenvoort from The Green Office Utrecht University.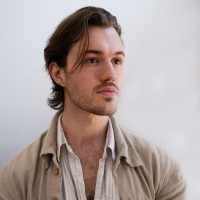 "Sustainability has always been at the heart of everything I do. I remember taking a business course on corporate sustainability and being inspired by the possibility of change. It's what motivated me to eventually pursue my MA in environmental and climate ethics!"
Jon Kahler, Environmental Ethicist & Communicator
Jon Kahler is an impassioned nature-lover who wants to make the world a better place! That means: communicating ideas about sustainability and environmentalism through ethical copywriting, environmental writing and educational video's in which he explores the larger questions of how we relate to nature, its non-human inhabitants, and the world at large. These questions can do a lot to inform how we ought to move forward as individuals, businesses, and as members of planet earth.
Next to this mission Jon worked as a Sustainability & Ethical Advisor Circle That and copywriter for Biome Eco Stores. He holds a master in Applied Ethics from Utrecht University and postgraduate education in Philosophy (Melbourne University) and  Circular Economies & Sustainability Strategies (Cambridge University) on top of a  Bachelor in Entrepeneurship and Business.
Spandan Joshi & Tiemen Wagenvoort, Green Office Utrecht University

Spandan  & Tiemen will provide an interactive session on the hidden impact of our daily living, based upon the book The Hidden Impact – Everything you want to know and what you can do to live an eco-neutral life written by Babette Porcelijn, industrial design engineer, author, speaker and researcher at Think Big Act Now an organisation helping people make the most effective choices in their daily lives to help strive for a safe and sustainable future.
Her book De verborgen impact was published in 2016 and over 20.000 copies have been sold in the Netherlands, Belgium and France. In 2020 she published EcoPositief in vijf stappen and in july 2021  The happy 2050 scenario, a science-based plan for a safe planet, an inspired crew, a policy of integrity, eco-positive production with no hidden impacts, a healthy economy and equal opportunities for well-being for all.