Workshops & Recruiters
Sustainable business(es) and how to work with sustainable impact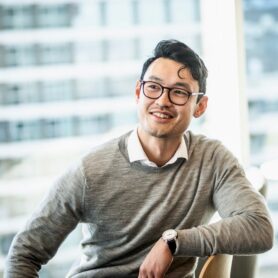 During this session Tim will tell you about his motivation to work in consulting, his experience with sustainability within corporations, his own vision and on (corporate) sustainability, and can direct you in finding the right job. After this hour you will have a better understanding of sustainability in business, the job market of (sustainable) consulting, and on how to articulate your wished future position.
Tim den Hartog is a Junior Management Consultant within Accenture's Strategy & Consulting practice and specialized in the Financial Services sector. He has obtained a BSc in Liberal Arts & Sciences, with a major in Environmental and Natural Sciences, and a MSc in Sustainable Business & Innovation both from Utrecht University. Over the course of his academic education he developed a keen interest in innovation and sustainability in the context of the (corporate) organizations, which is reflected in his thesis's: "Climate Change in High-income Cities: Urban Resilience" (Bachelor's thesis 1); "The Interactional Sustainable Business Strategy: An Interdisciplinary Advice for a Sustainable Work Environment"(Bachelor's thesis 2); "Balancing Artificial Intelligence and the Future Workforce: Rise of the Conversational Bots" (Master's thesis). During his master's Tim got into environmental consulting as he conducted a consultancy assignment at Laxmi Soap Factory, a local soap manufacturer in Pune, India, on improving its economic position whilst enhancing sustainable performance by the means of concepts such as eco-efficiency.
After his studies at Utrecht University Tim continued his interest in sustainability, innovation and (corporate) business in his professional career as management consultant at Accenture expanding his knowledge on sustainability within the Financial Services industry on topics such as Sustainable Finance, Climate Risk, and Corporate Sustainability. He also fulfills the role as general Accenture contact person for related campus events in Utrecht.
Besides his full-time job as management consultant time Tim also likes to contribute by making impact on societal issues through his representation in the Utrecht thinktank Denkkracht Utrecht and the Refugee Talent Hub.
Accenture is a global professional services company with leading capabilities in 40 industries in Strategy and Consulting, Interactive, Technology and Operations services serving clients in more than 120 countries. Accenture has recent committed itself to its new Sustainability Value Promise and focuses on becoming a responsible company, providing sustainability services, sustainability by design, and being responsible citizens.