Alumni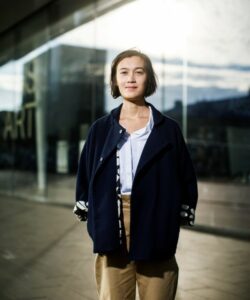 Esmee Postma (ENG) (2022)
Curator Central Museum & publications editor Museum Boijmans van Beuningen
Marthe van 't Veld (Stichting Art): "Esmee started her career in 2008 at the University of Amsterdam, where she graduated cum laude in 2012. In between, she also studied at The New School University in New York in 2011, where she focused on journalism, photography and art history. After her Bachelor's degree, she started the Master's programme in Museum Curator at the University of Amsterdam and the VU Amsterdam.
During her bachelor's and master's, she worked as a front office manager at Heritage Amsterdam, interned at the Stedelijk Museum, and started her career as a publications editor at Museum Boijmans van Beuningen. Here she gained a lot of knowledge, which can be seen in her contribution to many impressive exhibitions. In 2020, she even won the Prize for Young Art Criticism. Since September 2021, she has also been working at the Centraal Museum in Utrecht as curator of an exhibition on photorealism. Finally, since 2015 she has been an editorial board member of Tubelight, a review journal for contemporary art, of which she has also been a board member since 2020."
If you're curious about Esmee's career trajectory and want to know all about her job as a curator and publications editor, come to the career night to find out more!