Alumni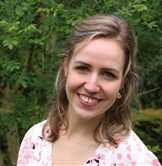 Eline van der Velden (ENG) (2021)
Britt Prins from Adelante: "Eline van der Velden finds herself at home in many markets. She started in Utrecht with the bachelor Spanish Language and Culture after which she followed the Master Intercultural Communication with the Spanish Track. During her studies she did an exchange with the Spanish University, Universidad de Valencia. She also completed an internship at the Spanish Language School at Camino de Barcelona in 2016. After this, she did a research internship at Akteos Netherlands, which mainly benefited her skills from her master's degree.
After this she ended up at Pro Contact Shoes bv. Where she has various tasks such as creating and selling private label shoe collections for chain stores, production control at, and cooperation with factories in India, Bangladesh, Spain and Portugal, various activities around shoe fairs: logistics, planning, relationship management and finally HR activities "
However, in these changing times, she started something new in July 2020. First with source and contact research within the COVID-19 organization of the Health & amp; Youth Service and from November 2020 Junior Team Leader at the Health & amp; Youth Department.
Up-to-date and varying, with Spanish Language and Culture you can go in many more directions than you might have thought. Became curious? Then sign up for the story of this alumna!