Workshops & Recruiters
(ENG) Workshop: Paint yourself, picture your future! (2021)
What does my future look like? But first of all, what do I look like? What is my story? What am I taking away? Where am I standing? What is the next step for me?
The old fashioned CV we do know by now. But is a visual representation of yourself, what you have to offer and where you see yourself in the future not far more original? Or more inspiring? It is not only inspiring for yourself to see yourself visually, but also for potential employers who are faced with piles of identical CVs!
In this workshop Yuri helps you to take the first steps in creating a visual story about your professional self using the  questions mentioned above as a starting point. After that you can work on your own or you can of course contact him.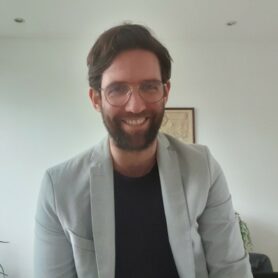 Yuri Villa Rikkers worked for Bizmasters, as a startup coach at the Rotterdam University of Applied Sciences, as a mentor, career counselor and career coach, and once started of as a math teacher and Buddy Care. His background: LAS and Linguistics at Utrecht University. His personality: he feels best when he can help others finding their strengths, entrepreneurial, creative, exentric, inspired but also down-to-earth and commercial. Based on his experience with product strategy and organizational development, he has delved deeper into strategic product development in the past few years, and designed a solution framework based entirely on AI and Big Data. His company:

IncOrange